"Wedding Announcement Wording and Messages" is a comprehensive guide to crafting the perfect announcement for one of life's most momentous occasions. It offers a wealth of carefully curated wording options, ranging from traditional to modern, to suit every couple's unique style and preferences. Each message is artfully composed to convey the joy, love, and excitement surrounding the newlyweds' union. Whether it's a formal announcement or a more casual expression of happiness, this guide provides the ideal words to capture the essence of the celebration. The collection includes suggestions for both printed announcements and digital messages, ensuring that every couple can share their news in a way that feels authentic to them. With a focus on personalization and heartfelt sentiment, these messages go beyond the ordinary, reflecting the couple's personalities and the significance of their union.
We are overjoyed to announce our wedding on (date). Please keep me and (name of bride/groom) in your sincere prayers.
Good news! (Fiance's name) and I am officially becoming husband and wife on (date). As we enter this new phase of life, we seek your blessings and best wishes.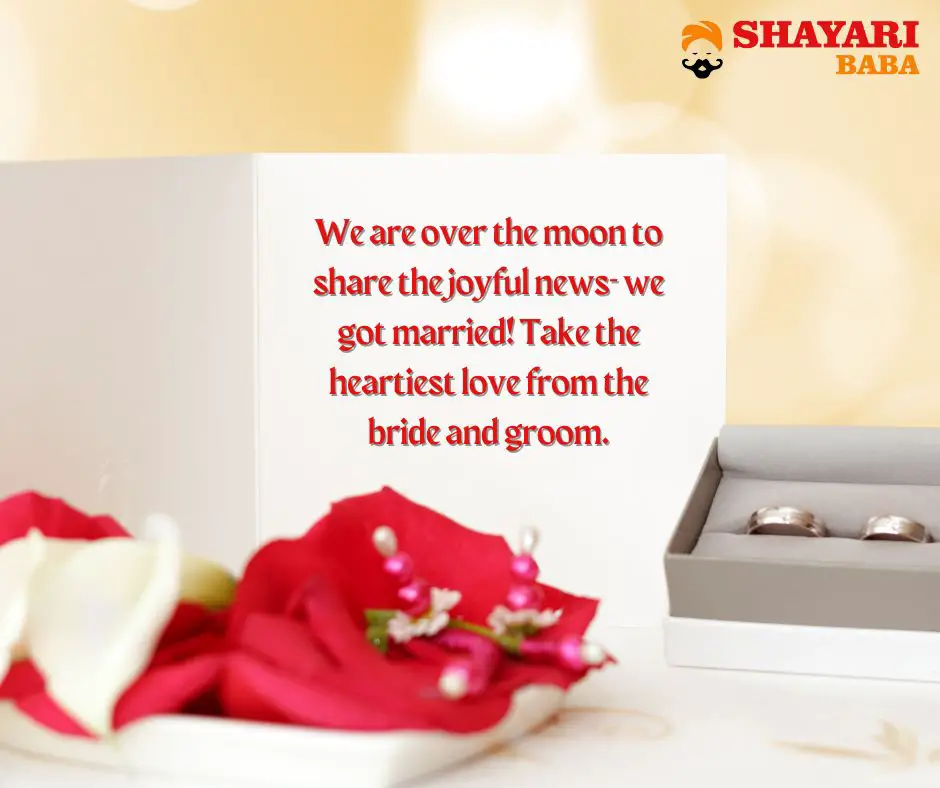 The dream is finally coming true on (date). We are officially becoming partners for life, and your blessings would be the most precious gift to us.
In sickness and health, we are soon going to make the pact of being with each other for life. We humbly ask for your prayers for this new journey.
The day is coming soon, the day all parents wish to experience. The wedding of our (daughter/son) will take place on (date), and we couldn't be more excited!
Please congratulate my (son/daughter) as (he/she) exchanges vows with the love of (his/her) life on (date). May their love always stay strong.
I have always believed in him/her and the love we share, and with that trust, we are tying the knot on (date). Looking forward to our happily ever after!
We are soon to embark on a new journey of love and care, and we wouldn't take this big step without your blessings. Please pray for our dream wedding!
We are super excited to announce that we will be getting married on (date) at (place). Do wish us a good life together.
As we prepare for the biggest day of our lives, we are thinking of you and appreciating your existence in our lives. Please bless our wedding.
We two will soon turn into one, and we hope to do so with your cordial blessings!
Our family would soon be expanding, as my (son/daughter) is getting married on (date). Bless us as we embrace this lovely addition to our family!
It is such a pleasure to inform you that me and (Husband/wife's name) got married on (date) with a small ceremony. Our lives wouldn't have been so special without your love and support, so, thank you!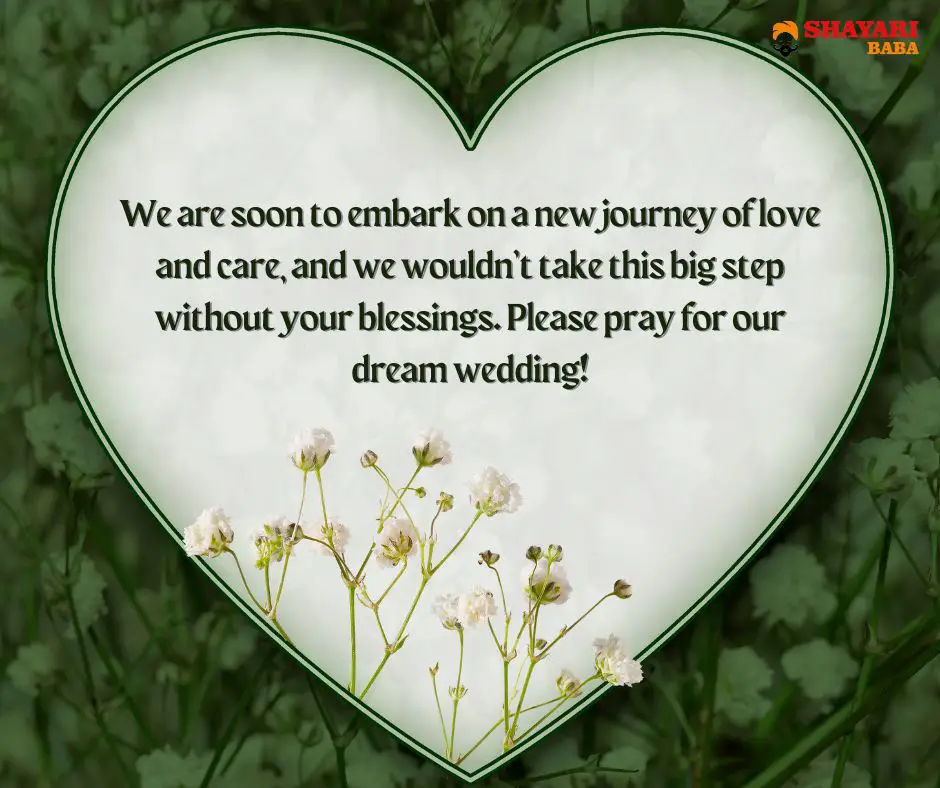 A celebration of love took place on (date) at (place), where we become Mr. and Mrs. (Surname). Please pray for our happy married life.
We spent the best day of our couple's life on (date), where we said our vows in the presence of some friends and family. Hoping for a beautiful life together!
So happy to inform you that we got married on (date). We might be done with the ceremony and vows, but our married life would still be empty without your blessings.
We officially put an end to fooling around and tied the knot on (date). Thank you for always cheering for us and for all the support.
Our (son/daughter) has tied the eternal bond with (his/her) beloved on (date). Please shower the newlyweds with your love and blessings.
It is such an honor to let you know that I and (husband/wife's name) got married on (date). The painfully small ceremony did not allow us to have you there, but you have been in our minds throughout the day!
We became Mr. and Mrs. (Surname) in a private ceremony on (date). We hope your love and blessings will be with us throughout our lives.
Wedding Announcement Messages
On (date), (husband/wife's name) and I will become one. We would've loved to have you join us, but we decided on having a small wedding with immediate relatives only. Hope we can be in your prayers!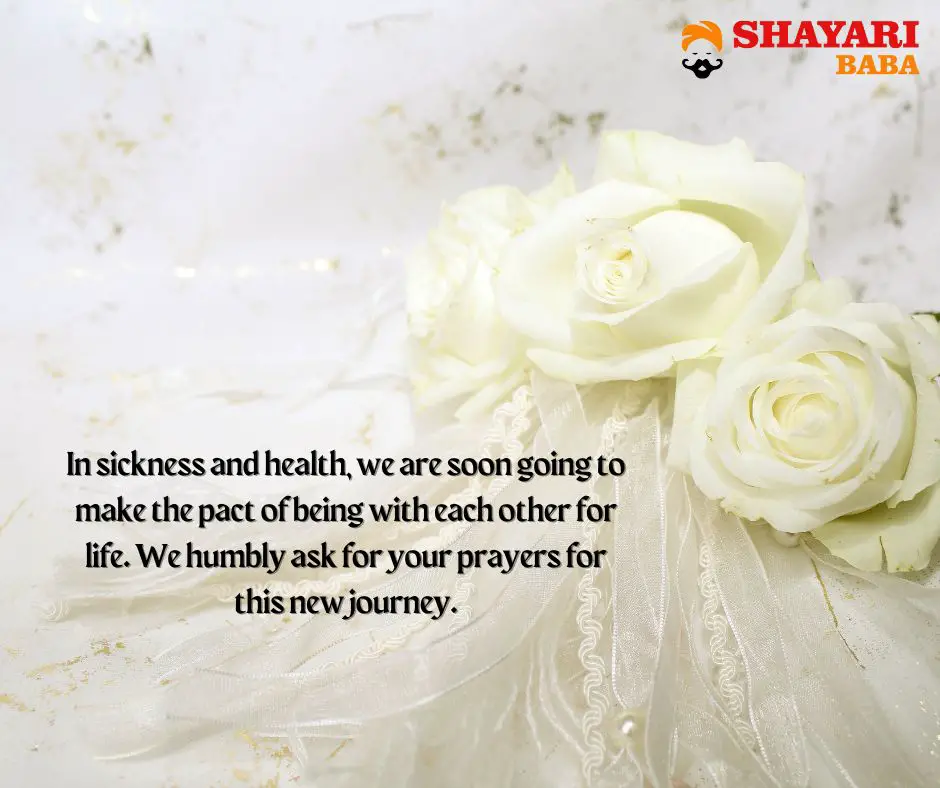 We are extremely sorry not to have you with us as we exchanged vows on (date). In our hearts, you will always be a part of our special day.
We are soon to begin our married life together, and we couldn't refrain from sharing the joy with you. Sadly, our venue allowed us to invite some close relatives only, I hope you will understand and wish us the best.
Here to share the happy news that our (son/daughter) got married on (date). We could only invite a few limited guests, but we deeply missed you. Please pray for the newlyweds.
Introducing the new married couple in town- Mr. and Mrs. (Surname)! (Date) was the dreamy day when we tied the knot.
We are over the moon to share the joyful news- we got married! Take the heartiest love from the bride and groom.
After years of being in love, we have finally got hitched on (date). Wish us luck!
Butterflies are flying all through my stomach as I'm writing this- I married the love of my life! Mr. and Mrs. (Surname) it is!
We (parents' names) are proud to announce that our (son/daughter) (son/daughter's name) got married to (son-in-law/daughter-in-law's name) on (date). We wish them a happy married life!
Nothing compares to the joy of seeing our (son/daughter) get married, and we can't wait for the upcoming big day. Please bless the bride and groom-to-be.
Weddings are amazing, especially when it's you or someone from your family getting married. You would want everything to be the best, the ceremony, the vows, the wardrobes and the announcement too. Keeping that in mind, our website has compiled the best wedding announcement messages, so that you can focus on the rest of the planning.
If you want to shout the good news to the world, try our pre-wedding announcement wording. Or, ask for your loved ones' good wishes by sharing a post-wedding announcement wording. There are plenty of ways to announce the big day too. You can send personalized cards to the recipients, share the good news through social media or publish your wedding picture in a local newspaper. It's the gesture of informing your friends, family and acquaintances that matters.